YOGA can be practiced at
ALL AGES
ALL LEVELS OF FLEXIBILITY AND STRENGTH.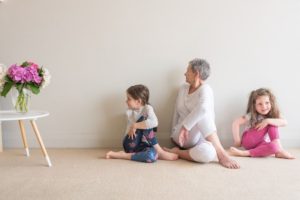 Yoga – A 5000 year-old Science
Yoga, a 5000-year-old science has moved towards higher states of harmony and peace both as an individual and also as a social being.  Through years of introspection, practice and dialogue, a huge knowledge base is available in this land of spiritual seekers who meditated in the Himalayan caves.
Positive physical health in the form of improved muscle strength, stamina, dexterity, immune stability have been achieved after the integrated approach of yoga for positive physical health.
Improved perceptual sharpness, intelligence, memory, emotional stability, that are indicators of positive health have been achieved after yoga practices.
Yoga promotes family harmony and peace and helps in the prevention of many stress related health problems.
Why Should You Go to Yoga?
Yoga improves strength, balance and flexibility.
Slow movements and deep breathing increase blood flow and warm up muscles, while holding a pose can build strength.
Yoga helps with back pain relief.
Yoga is as good as basic stretching for easing pain and improving mobility in people with lower back pain. The American College of Physicians recommends yoga as a first-line treatment for chronic low back pain.
Yoga can ease arthritis symptoms.
Gentle yoga has been shown to ease some of the discomfort of tender, swollen joints for people with arthritis, according to a Johns Hopkins review.
Yoga benefits heart health.
Regular yoga practice may reduce levels of stress and body-wide inflammation, contributing to healthier hearts. Several of the factors contributing to heart disease, including high blood pressure and excess weight, can also be addressed through yoga.
Yoga relaxes you, to help you sleep better.
Research shows that a consistent bedtime yoga routine can help you get in the right mindset and prepare your body to fall asleep and stay asleep.
Yoga can mean more energy and brighter moods.
You may feel increased mental and physical energy, a boost in alertness and enthusiasm, and fewer negative feelings after getting into a routine of practicing yoga.
Yoga helps you manage stress. 
According to the National Institutes of Health, scientific evidence shows that yoga supports stress management, mental health, mindfulness, healthy eating, weight loss and quality sleep.
Yoga connects you with a supportive community. 
Participating in yoga classes can ease loneliness and provide an environment for group healing and support. Even during one-on-one personal training sessions, one is acknowledged as a unique individual, being listened to and participating in the creation of a personalized yoga plan.
Yoga promotes better self-care. 
Numerous studies show yoga's benefits in arthritis, osteopenia, balance issues, oncology, women's health, chronic pain and other specialties.
A number of studies have shown that yoga may help reduce stress and anxiety. Yoga can enhance your mood and overall sense of well-being. Yoga might also help you manage your symptoms of depression and anxiety that are due to difficult situations.
Benefits of Yoga
Relief stress
Improves concentration level and enhances memory
Increases flexibility
Prevents and supports recovery from ailments
Improves digestive system
Cures insomnia and sleep disorders
Builds muscles and strength
Ultimate joy and happiness
Therapeutic relief for back pain, spinal disorder, asthma, arthritics
Regulate blood pressure
Yoga pranayama practice increases glow of the face
Why Lotus Yoga?
Lotus Yoga is conveniently located at Pasir Panjang, yet away from the hustle and bustle of the city.  Step into our studio and feel the relaxing and invigorating space.   Lotus Yoga was founded in Singapore to support and foster mindfulness and peace in the community.  Lotus Yoga offers traditional teaching methodologies from India, the motherland of yoga with a variety of approaches to achieve and maintain your optimal health. Whether you are experiencing pain or simply want to improve your physical and mental wellbeing, Lotus Yoga provides a supportive environment to do so.  Lotus Yoga has special therapy classes and offers Reiki Healing to help ease different body pains and ailments.  Be inspired and rewarded by a regular yoga practice with us.